Area 15 is one of the hottest new attractions in Las Vegas. It opened on September 17, 2020, and for a while, we heard rumors of how it was a new type of experience that mashes up art, food, and shopping.
Since we've been quarantining, it took us some time to visit, but last week we were finally able to see what all the hype was about. We can't wait to see all the art installations and events that will come through in the future.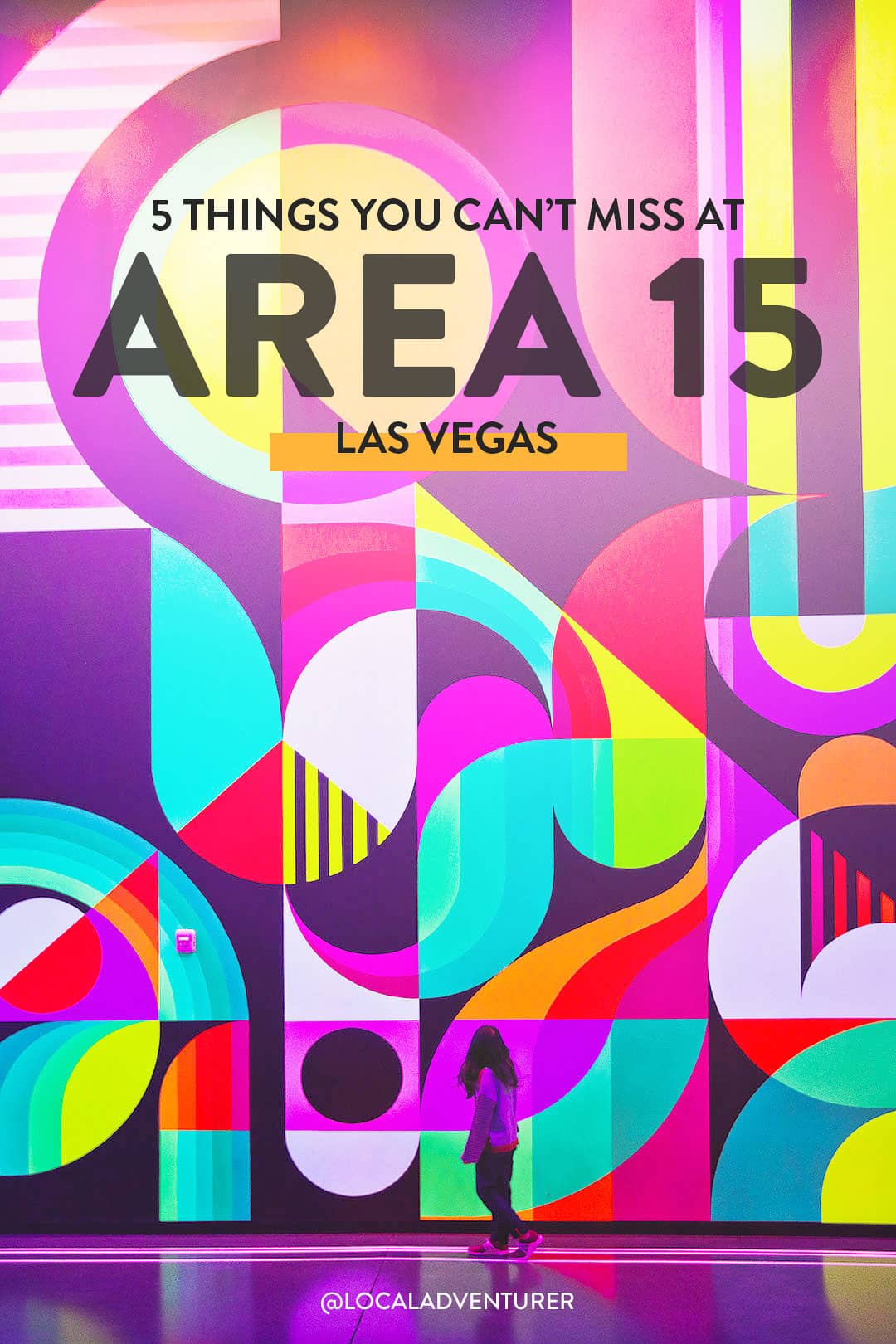 This post may contain affiliate links, where we receive a small commission on sales of the products that are linked at no additional cost to you. All opinions are always our own. Read our full disclosure for more info. Thank you for supporting the brands that make Local Adventurer possible.
Last Updated: February 12, 2021
Your Ultimate Guide to Area 15 Las Vegas?
It's hard to describe the AREA15 experience, but to put it simply, it's a futuristic shopping center. As you enter, you come into a large open space where there are different vendors mixed in with art installations. To the left and right of you, there are spaces filled with museums, interactive exhibits, and shops.
It's not only contained within the massive warehouse, there are also outside spaces that are used to house art from Burning Man plus other murals and art installations.
Local Tip: When you first enter, you walk through what feels like a spaceship airlock. It definitely sets the mood for the rest of your experience. Enjoy the few moments you have in there as they'll want to continue letting others in. This is something we wish we knew ahead of time since you can't spend much time in it when there's a line.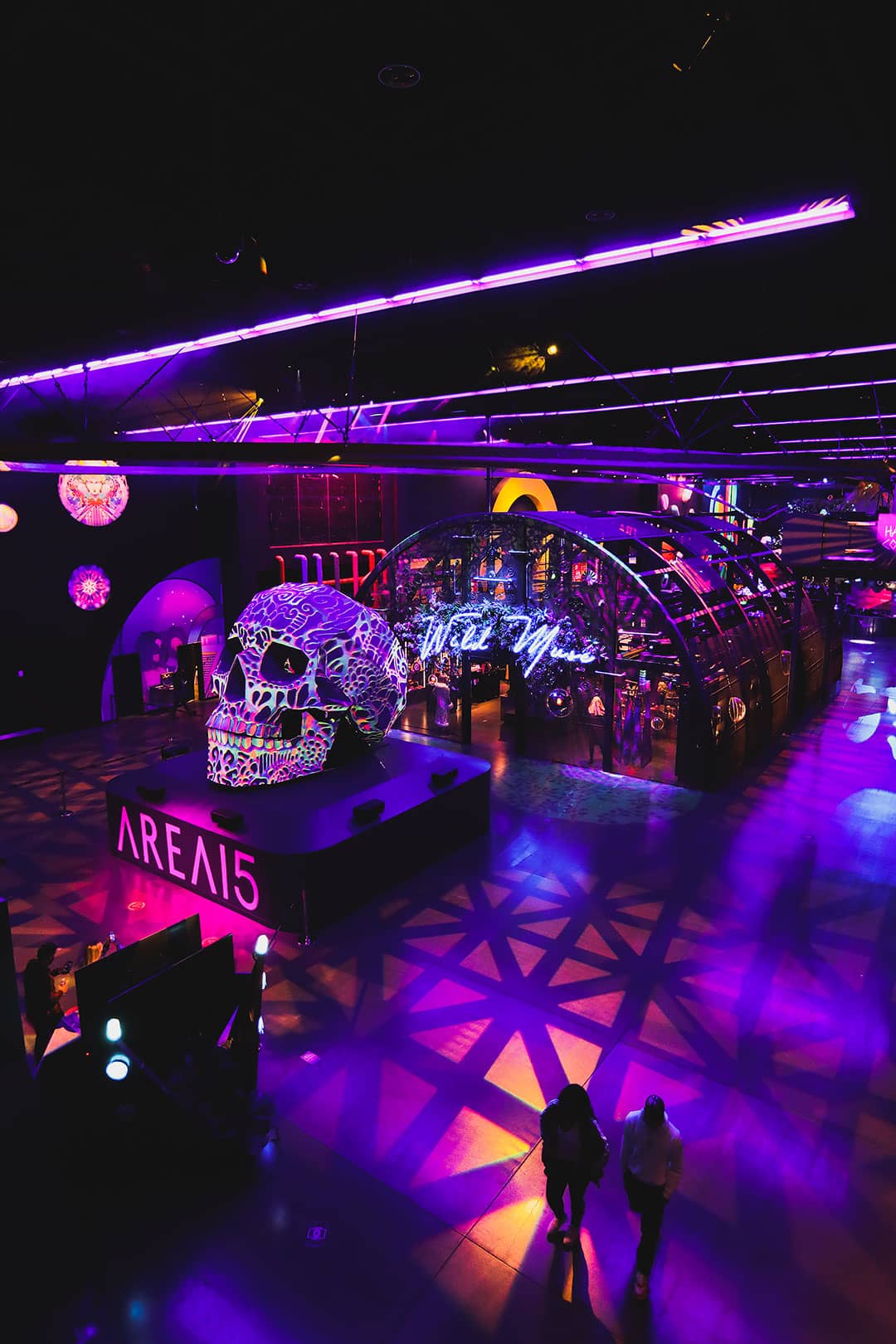 Area 15 Las Vegas Tickets
Here's what you need to know about what tickets to buy before arriving.
General Admission into AREA15 is free, but they currently require you to reserve a ticket to help control capacity. Once you have your ticket, you can arrive at any time after they open (and 30 minutes before they close). Depending on how many people are already inside, you may have to wait outside since they actually monitor the number of guests.
Keep in mind that the General Admission ticket only allows you to get inside. Then you can do some window shopping to see if you want to purchase tickets to any of the exhibits or attractions. If you want to see something specific, it's always a good idea to buy your ticket online ahead of time. For example, Meow Wolf is already sold out for their opening weekend.
AREA15's current hours:
Mon to Thur 5 pm – 9 pm
Fri 5 pm – Midnight
Sat 12 pm – Midnight
Sun 12 pm – 8 pm
AREA15 Address
3215 S Rancho Dr
Las Vegas, NV 89102 (map)

Getting to AREA15 is easy. It's off the north end of the strip and they have a dedicated flow for ridesharing. If you're driving, they have plenty of parking all around the building.
5 Things You Can't Miss at Area 15 Las Vegas
We haven't checked out everything in Area15 (some exhibits are still opening) but will eventually go and update you with our thoughts. In the meantime, check out our favorites below to help you plan your visit.
This is our favorite museum or attraction so far! If you've ever been to a Blue Man Group and love the show, you will love Wink World.
Chris Wink, one of the three co-founders and Chief Creative Officer of Blue Man Group, created Wink World, which is a psychedelic art house. You start out walking through a narrow hallway checking out art pieces that he's curated.
Afterward, you enter six infinity mirror rooms. What's different about these infinity rooms is it takes out the "self" and beautifully integrates sound, light, color, and motion. Our absolute favorite was the breathe room! 
Local Tip: You'll want to purchase the Chromadepth glasses before checking out the Aliume 3-D Psychedelic Art Gallery (and the main piece outside). I dabble in painting, but it's mind-blowing how the artist, Alex Aliume, uses different colors to create different depths.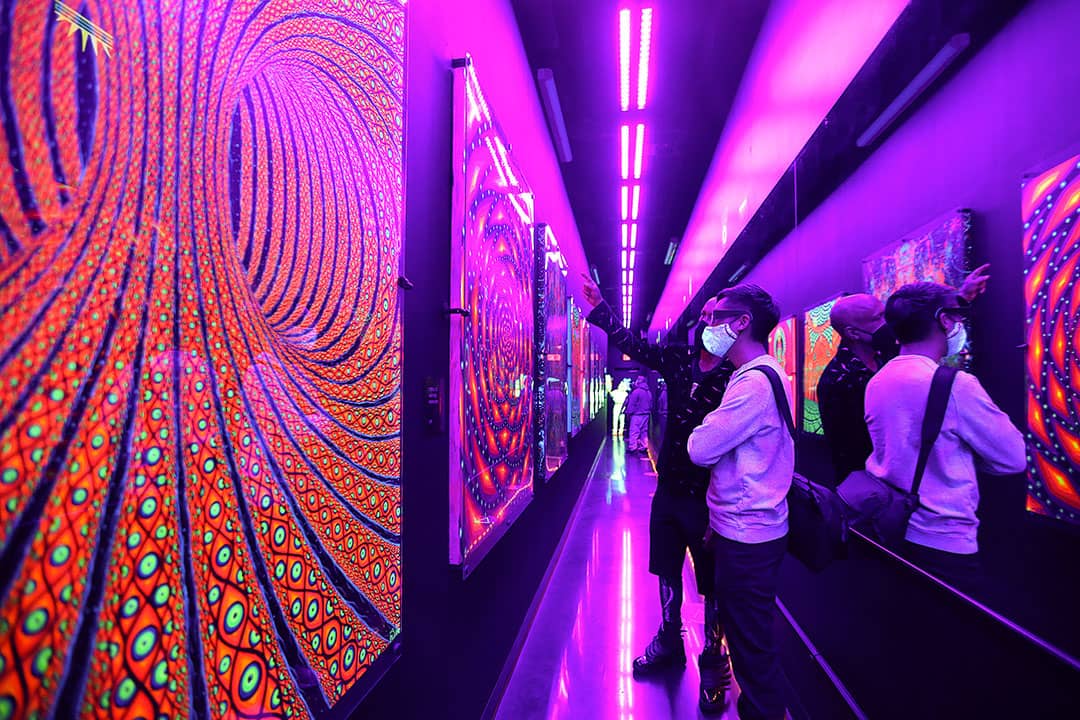 Meow Wolf's Omega Mart (Open February 18)
Meow Wolf's Omega Mart opens soon and this will be the largest and anchor experience at AREA15. We'll let you know how it is once we go, but in the meantime, this is their description:
Astonishing. Unpredictable. Mind-bending. Omega Mart is the newest interactive and immersive art experience from Meow Wolf. Explore an extraordinary supermarket and discover portals leading to surreal worlds full of unexpected, art-filled landscapes in which to play.
With elevated narrative and tech elements spanning 52,000 square feet, Omega Mart is the work of hundreds of creatives on staff and more than 50 collaborating visual and musical artists from all over the world. You have no idea what's in-store for you!
Museum Fiasco | "Cluster" by Playmodes Studio
Museum Fiasco is a fully immersive installation that uses light and sound to explore the relationship between space, time, and perception.
I know that sounds abstract but the exhibit is abstract! Imagine an infinity room filled with columns and mirrors. Then mix in intense sounds with lights on the columns that go along with it. The concrete floor is semi-reflective too creating an even more open space.
While you're inside, you're free to wander around, but I definitely recommend standing in one spot to take in the experience. The overall show last around 12 minutes.
We thought it was pricey for the one exhibit, but the exhibits will continue to rotate and this one is only here for a limited time.
Local Tip: For $1 more, you can purchase an all-day pass if you want to go in and out as you please.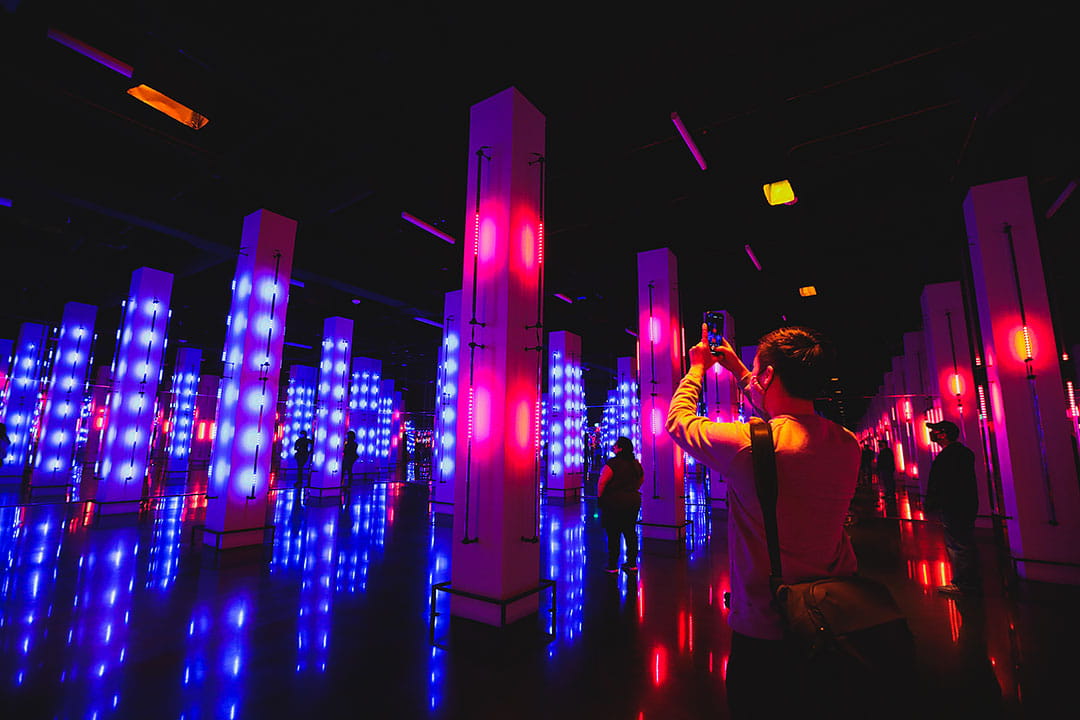 Get a Drink Under Oddwood's Maple Tree
Tickets: No admission. Purchase drinks.
This is our favorite piece in the whole place and free to view. I could watch it all day.
The 23-foot-high Japanese maple tree is located at the center of Area 15 and is made of over 5,000 twinkling LED lights that change color. Order a beer or cocktail and enjoy a drink under the branches. It's mesmerizing.
Local Tip: The view of the tree is stunning from the second floor.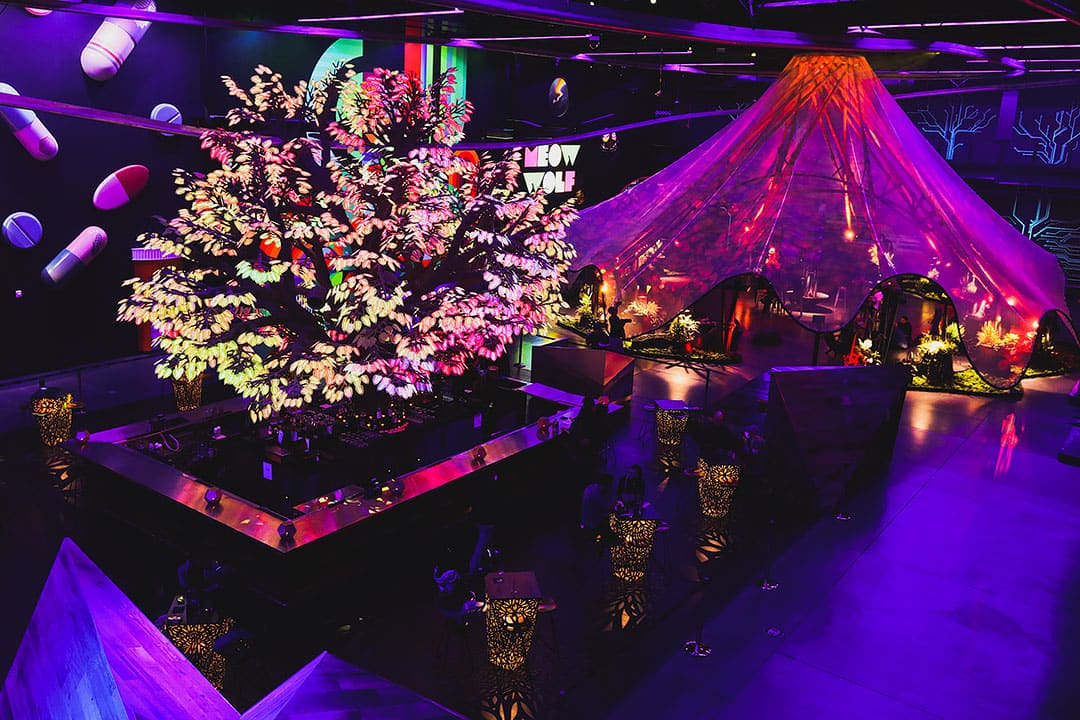 Electroroll: Skate. Rock. Radiate.
The A-Lot which typically houses art is currently transformed into an outdoor roller rink through the end of March. On Friday and Saturday nights, it turns into a 21+ Disco night and ticket prices go up. Rentals are included in the ticket price.
ElectroRoll hours
Mon to Thur: 5 pm – 9 pm
Fri: 5 pm – 8:30 pm (Disco 21+: 9 pm – midnight)
Sat: 12 pm – 8:30 pm (Disco 21+: 9 pm – midnight)
Sun: 12 pm – 8 pm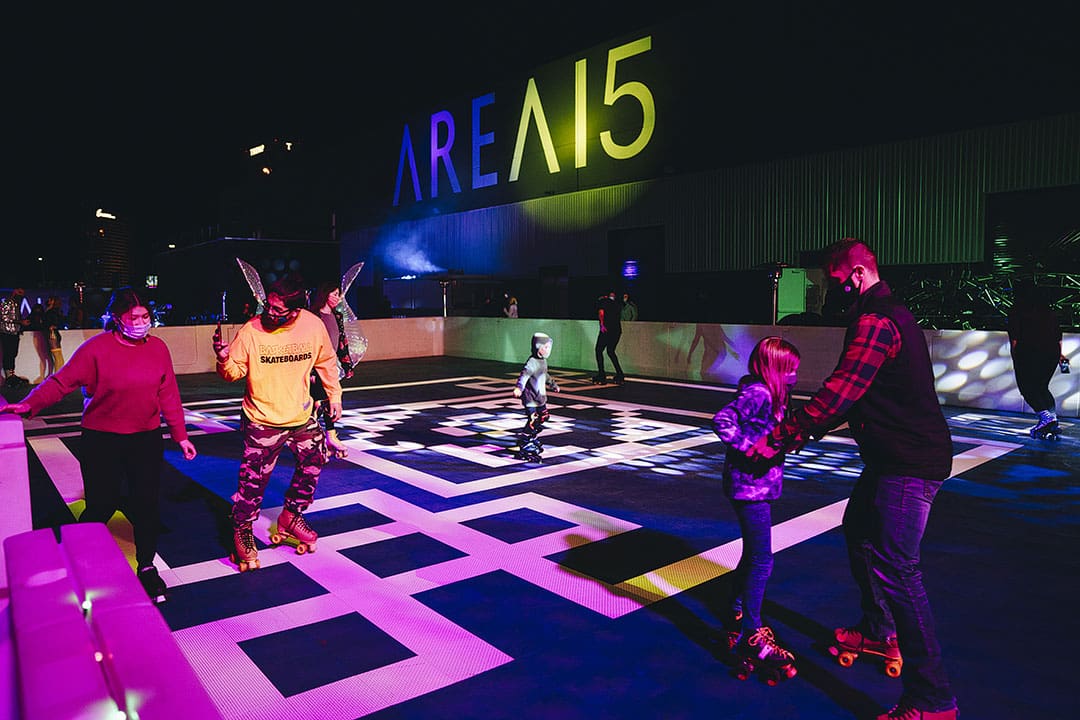 Best Place to Eat at AREA 15 Las Vegas
There aren't a ton of options for food in AREA15 yet but plenty of chances for snacks or drinks while you check out the other attractions.
Emack & Bollos – Loved their ice cream. They also serve yogurt, homemade fudge and chocolate, micro-brewed sodas which I need to try, and they have vegan selections. 
Oddwood – Serves a wide variety of beers and cocktails.
Rocket Fizz – It's a chain, but if you've never been in one, think of a modern-day, old-fashioned soda and candy shop.
The Beast by Todd English – Todd English is a r

enowned chef and four-time James Beard Award winner and 

has curated a menu of mouthwatering food. Definitely next on our list to check out.
If you have the time, here are some more things to check out at Area 15.
A-Lot – Outdoor art space featuring large-scale and desert-festival inspired pieces.
Birdly ($13.50) – A VR experience that mimics every aspect of the avian experience.
Brainstorm ($5) – Reads your expressions and responds by giving you a unique experience every time.
Dueling Axes (starts at $35) – Axe throwing! 20% off for locals.
Emporium (free, reservation required) – Next level arcade bar + event venue.
Five Iron Golf (starts at $35) – Indoor golf experience featuring industry-leading golf simulators, pro teachers, and a bar.
Gallerie 360 ($20) – A fully immersive audio and visual experience inside The Portal.
Haley's Comet ($18) – Hang glide + free falling on the first indoor, electric dual-track suspension ride in the US.
Lost Spirits Distillery (Coming Soon) – Think Willy Wonka + alcohol. An immersive tour that resembles a surreal amusement park featuring whisky and rum tastings, boat rides, underwater train rides, and holograms. So excited for this to open!
Murals – There are massive murals on the backside of the building worth checking out.
OZ Experience (starts at $30) – They have two VR experiences. We only did the seated one (which is skippable), but we definitely want to try the immersive one!
Particle Quest ($8) – Interactive AR experience that takes you throughout the space.
Portal – 360-degree 3D projection-mapped walls. While we were there it was a sports bar with TVs all around.
Sanctuary – Giant volcano-shaped, airy dome built from natural materials. Great spot to take a break and grab a drink.
Wild Muse Boutique – A unique shop with one-of-a-kind, handcrafted apparel, accessories, and art.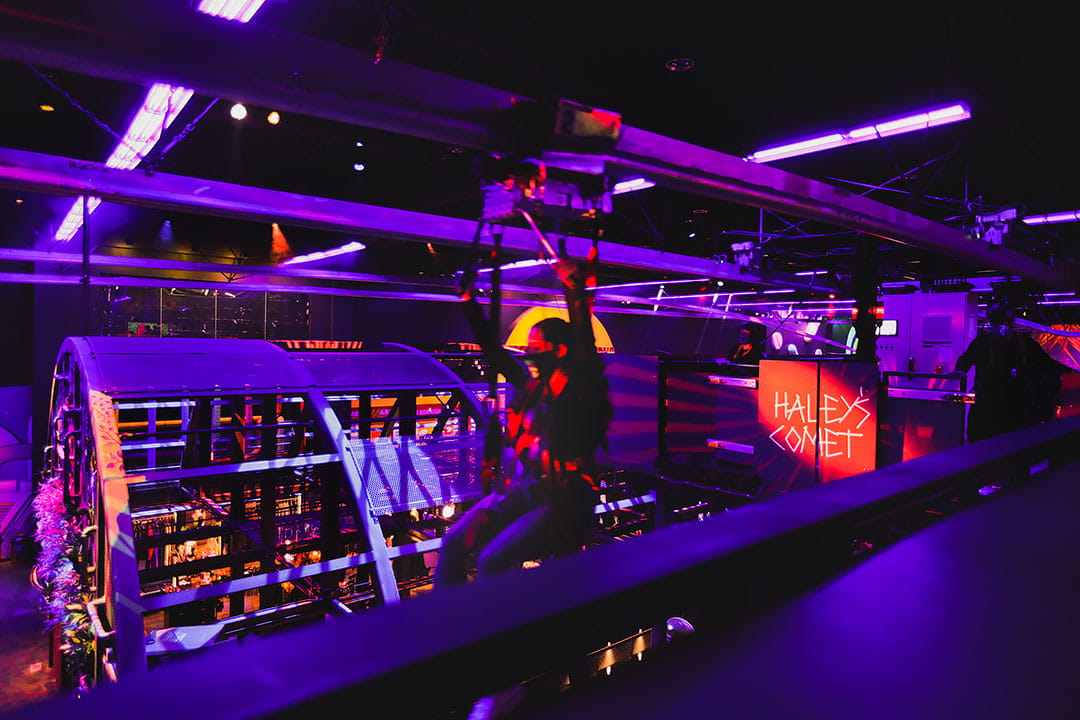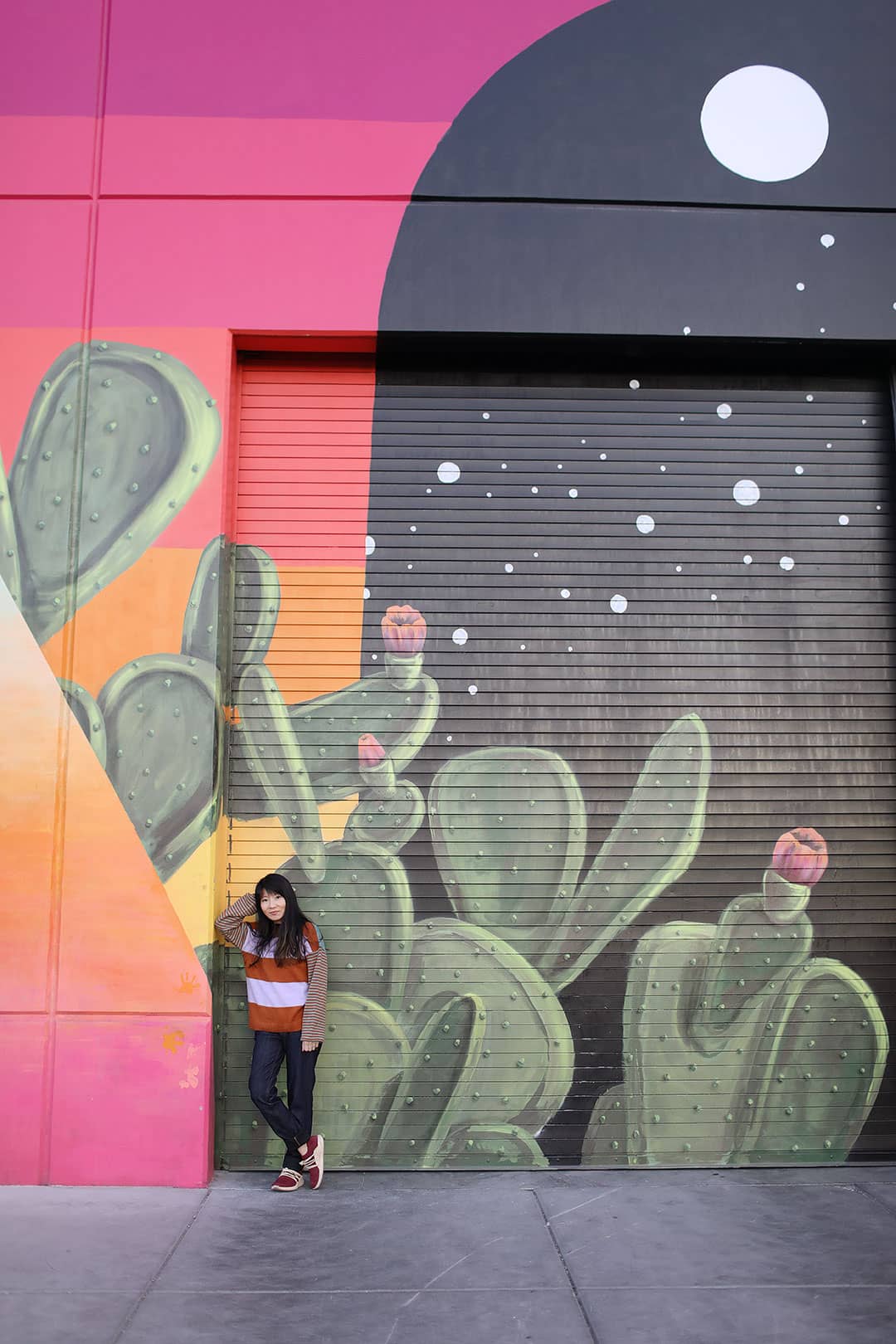 To avoid the largest crowds, arrive early. We got there 10 minutes before it opened, and there were already 20+ people in front of us.
They offer packaged deals throughout the year, so be sure to check their site if you want to buy a bundle of experiences.
Some of the experiences offer local discounts. You will need to check with each spot to verify what that is.
Most attractions do not take cash so be sure you have your credit card.
Area 15 was built for special events. Check this page for the latest events.
Masks are required at all times.
Have you been to Area 15? What did you think? What were your favorite exhibits?
Did you enjoy this post? Pin it for later
"Discovery consists not of seeking new lands but in seeing with new eyes" – M. Proust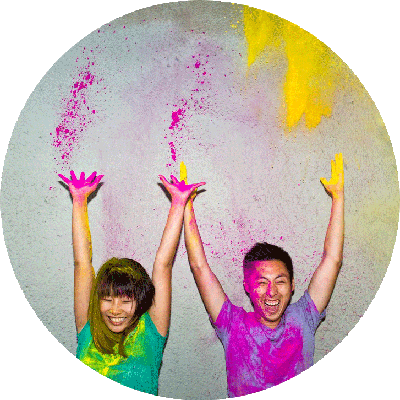 Esther and Jacob are the founders of Local Adventurer, which is one of the top 5 travel blogs in the US. They believe that adventure can be found both near and far and hope to inspire others to explore locally. They explore a new city in depth every year and currently base themselves in Las Vegas.
The post 5 Things You Can't Miss at Area 15 Las Vegas appeared first on Local Adventurer » Travel Adventures in Las Vegas + World Wide.