Favorite recipe of dr. Gundry from The energy paradox
Coconut from mushrooms and shellfish
When I ate takeaway food more often, one of my attempts was Thai food – I absolutely love spicy red coconut curry. I suggest serving this delicious curry over steamed cauliflower rice for a hearty, satisfying meal. And if you're a vegetarian, skip the mussels and replace the chopped palm hearts – just add them to the pot of kale.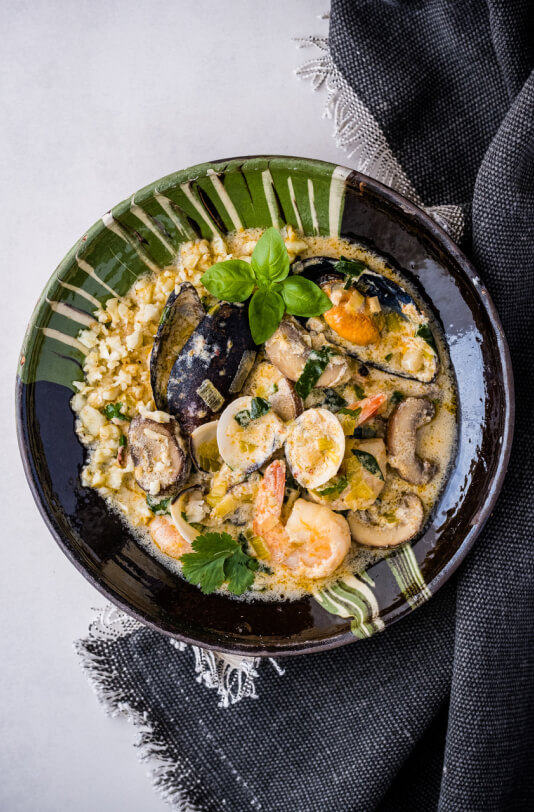 Serves 8
1 tablespoon sesame oil (toasted or plain)
3 leeks, peeled and finely chopped
2 cloves garlic, pressed or ground
1 tablespoon ground fresh ginger
2 cups sliced ​​brown mushrooms
2 tablespoons Thai red curry paste
1 tablespoon tahini (sesame paste)
Mussels 8 grams in shell, chin removed
8 grams of shellfish in shell (neck or cherry)
2 (14 ounces) cans of unsweetened whole coconut milk
½ cups of mushroom soup (see recipe for The energy paradoxor use vegetable soup)
Shrimp from wild catch, peeled
1½ cup packaged thinly sliced ​​kale
5 to 6 drops of liquid stevia
1 tablespoon fish sauce or amino coconut
juice of 1 lime
1 small handful of fresh basil or cilantro leaves, chopped
Heat the oil in a large soup pot over medium heat. Add the leeks and cook until soft and translucent, 3 to 5 minutes. Add the garlic and ginger and cook until translucent, about 2 to 3 minutes. Add the mushrooms and cook until softened, 4 to 6 minutes. Add curry paste and tahini and stir until well blended. Cook for 1 to 2 minutes, until it becomes very fragrant. Add the mussels, shellfish, coconut milk and mushroom soup and stir. Cover and cook for 6 to 10 minutes, until the shells open.
Add the prawns (or palm hearts), kale, stevia and fish sauce (or coconut amino acid), cover and cook for an additional 4 to 6 minutes, until the shrimp are cooked through and the kale is wilted. Uncover and simmer for 3 to 4 minutes, until slightly thickened. Add lime juice and basil or cilantro and serve over cauliflower rice if desired.