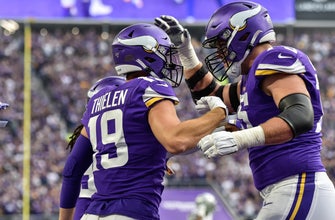 The order of the Minnesota Vikings' 2021 regular-season schedule has not been finalized just yet, but we at least know which teams the purple and gold will go up against next season.
Beyond their six divisional games, the Vikings will play the NFC West, the AFC North and the third-place finishers from the NFC East and NFC South. (Note: There are reports that there will be a 17-game schedule in 2021. If this comes to fruition, based on the NFL's previous determining of how to add the extra contest, Minnesota's opponent will be the Los Angeles Chargers and all AFC teams will host these extra games.)
Their opponents are official but some of these teams will go through massive roster turnover, including at quarterback, thus many of Minnesota's 2021 foes will look much different than they did last season.
With the start of the league year approaching – and thus free agency – we thought we'd take a look at who the Vikings will play in 2021 (listed in order of 2020 record):
Green Bay Packers (home & away) 
2020 record: 13-3
Notable: For all the Vikings fans who take joy in the pain of Cheeseheads, then you should find some solace with how the Packers' season ended, with unfulfilled promise with Green Bay faithful in despair at coming up one game short of the Super Bowl again. Green Bay finished as the No. 1 seed in the NFC and featured MVP Aaron Rodgers who threw for 4,299 yards, 48 touchdowns and just five interceptions. Rodgers hardly worked alone, since Davante Adams, Jaire Alexander, David Bakhtiari, Elgton Jenkins, Aaron Jones (a pending free agent) and Za'Darius Smith all made the Pro Bowl.
Big question: How happy is Rodgers? His comments after the NFC championship game did not indicate that he will play for the Packers forever, and with the organization's recent first-round selection of Jordan Love, it appears like his time with the team will end relatively soon. The question is how much it affects the 2021 squad.
Expectations: Green Bay should still be a top contender in the NFC once again. Sure, Rodgers is one year older but Green Bay has a fairly talented roster that should at least put them in position to be the NFC North favorite.
Pittsburgh Steelers (home)
2020 record: 12-4
Notable: Pittsburgh experienced one of the oddest 12-4 seasons in NFL history, starting off 11-0 then dropping four of its last five regular-season games before a 48-37 defeat to the Cleveland Browns in the wild-card round of the playoffs. The Steelers' offense ranked last in rushing with 84.4 yards per game and while Ben Roethlisberger was statistically fine, the eye test indicated some deterioration by the end of the season. Roethlisberger said in the offseason that he would take less money to return in 2021 – he currently is scheduled for an over $41 million salary-cap hit — and that could go a long way for a team that could lose key defenders Tyson Alualu, Bud Dupree, Mike Hilton and Avery Williamson, not to mention running back James Conner and wide receiver JuJu Smith-Schuster, to free agency.
Big question: Has the clock struck 12 on Big Ben? Yes, we're in the era of quarterbacks playing at an advanced age, but Roethlisberger, who just turned 39, has been plenty beat up over his career. After missing most of the 2019 season, Roethlisberger threw for 3,803 yards in 2020 – his fewest in a season in which he played in 14+ games since 2008 – with 33 touchdowns and 10 interceptions. Amazingly, no longer mobile he was sacked just 13 times thanks to a strong offensive line (which will now be without center Maurkice Pouncey, who retired) and quick, shorter throws (6.3 yards per attempt the worst of his career in any season in which he played more than two games).
Expectations: It all depends on if Roethlisberger returns to form and how much of the defense stays intact. How much will Pittsburgh lose from its top-three defense? Minkah Fitzpatrick, Cam Heyward and T.J. Watt remain, but it won't be able to keep all of those defensive free agents. There's also the above-mentioned Conner and Smith-Schuster. Big Ben signed a new contract to help Pittsburgh's cap situation, but it still isn't flush with cash. It is hard to imagine the Steelers regressing a ton in 2021, but they likely won't be meaningfully better.
Seattle Seahawks (home) 
2020 record: 12-4
Notable: The Seahawks got off to a great start, averaging 34.25 points in their first eight games. Seattle's offense cratered the rest of the season, culminating in a 30-20 defeat to the Rams in the wild-card round of the playoffs. Whether it was Russell Wilson regressing or the coaching staff not having enough answers as defenses got more film, the Seahawks need to figure out to sustain a high-powered offensive attack if they want to get back to a Super Bowl.
Big question: How does new offensive coordinator Shane Waldron impact the offense? Seattle hired the Rams' passing-game coordinator in January and with Wilson entering year 10 in the NFL, there are expectations for the offense reach another level in 2021. Presuming Wilson is staying in Seattle, of course.
Expectations: The Seahawks fancy themselves as contenders for the NFC crown, but since 2014 they have never gone past the divisional round of the playoffs. With multiple impactful players above the age of 30 and only so many more prime years of Wilson, Seattle should be aiming high again when Minnesota faces it.
Baltimore Ravens (road)
2020 record: 11-5
Notable: The Ravens and Lamar Jackson got over the hump, so to speak, by defeating the Tennessee Titans in the wild-card round. The absurd "Lamar Jackson can't win in the playoffs" narrative is as dead as the Dodo but the critiques will stick around until Baltimore seriously challenges for a championship. It put together another good season in 2020 and even led the NFL with a +165 point differential, but no Ravens fan wants to hear about that if they have championship hopes. Baltimore had the seventh-best defense in the NFL last year and Jackson rushed for over 1,000 yards once again, but since Marquise Brown was the only wide receiver to have at least 700 yards, the Ravens could try to fill that roster hole with a revamped group of wideouts.
Big question: Can the Ravens become legitimate championship contenders? In the past two seasons with Jackson entrenched as the starter, Baltimore went 14-2 and then 11-5 with a playoff win over the Titans. On one hand, it is fantastic to win 25 regular-season games in two years. On the other, the Ravens have pretty much accomplished everything BUT reach a Super Bowl, so even if Baltimore goes 13-3 in 2021, all eyes will be on it in January.
Expectations: The Ravens figures to be an AFC contender again and should be a tough test for Minnesota. Jackson has continued to grow as a quarterback and remains one of the scariest offensive players in the league.
Cleveland Browns (home)
2020 record: 11-5
Notable: The Browns are coming off a playoff appearance and victory, something that has not happened since 1995. Former Vikings offensive coordinator Kevin Stefanski won the NFL Coach of the Year award for his efforts turning Cleveland into a contender. The Browns' offensive line was really the catalyst for the team's success, as Pro Football Focus ranked the unit No. 1 in run blocking and pass blocking. With Jedrick Wills Jr. and Jack Conklin at tackle, Wyatt Teller and Joel Bitonio manning the guard spots, and JC Tretter at center, the big uglies paved the way for Nick Chubb to rush for 1,067 yards, 12 touchdowns and 5.6 yards per carry in the 12 games he played. Quarterback Baker Mayfield also benefitted from the great offensive line with 3,563 passing yards, 26 touchdowns and eight interceptions.
Big question: Can the offense stay at this level again? It is unfair to expect Cleveland to be the top run blocking and pass blocking team again, but it is within the realm of possibility since none of the starters are upcoming free agents. Regardless, it seems like the Browns should have one of the best offensive lines in the NFL in 2021 and if they stay mostly healthy then the team should make a return trip to the postseason.
Expectations: Cleveland appears to be on track to be a playoff team once again. Mayfield is still under his rookie contract and enters 2021 with (barring trades) Chubb and Kareem Hunt in the backfield, Odell Beckham Jr. and Jarvis Landry on the outside, Austin Hooper and David Njoku at tight end and an excellent offensive line. There are Pro Bowl-level players all over that offense and that should make the Browns a serious threat to the AFC crown this season.
Los Angeles Rams (home)
2020 record: 10-6
Notable: After beating the Seattle Seahawks 30-20 in the wild-card round then falling to the Green Bay Packers 32-18 the next week, the offseason has been fairly quiet for the Rams. Well, other than trading Jared Goff, two first-round picks and a third-round pick to Detroit for Matthew Stafford, losing defensive coordinator Brandon Staley to the Los Angeles Chargers as their head coach and passing game coordinator Shane Waldron to the Seahawks as their new offensive coordinator. Other than that, it has been business as usual in Los Angeles.
Big question: How much better is Stafford than Goff? Most NFL observers would agree that Stafford is a better quarterback than Goff, but is he two first-round picks and a third rounder better? That is the big question because if he is only marginally better or possibly worse, then the Rams will rue the day they dealt Goff to Detroit.
Expectations: Los Angeles' offense should be better with Stafford in the fold, especially since effective left tackle Andrew Whitworth will be back. The defense on the other hand is a question. Staley is gone, Leonard Floyd, Morgan Fox, John Johnson and Darious Williams all could leave in free agency, which would seriously hamper the Rams top-ranked defense.
Arizona Cardinals (road)
2020 record: 8-8
Notable: Arizona had two seasons packed in one in 2020. The Cardinals started off 6-3 and lit the world on fire with their explosive offense led by Kyler Murray, but the team fizzled down the stretch en route to a .500 finish. Murray showed why he was the No. 1 pick in his second season, passing for 3,971 yards, 26 touchdown and 12 interceptions and rushing for 819 yards and 11 scores. But the offense struggled down the stretch, scoring fewer than 24 points in four of the team's last seven games.
Big question: Can the offense sustain a high level of play throughout the season? Arizona has weapons. DeAndre Hopkins isn't going anywhere. Kenyan Drake rushed for 955 yards and 10 TDs in 2020. The pieces are there for Murray and head coach Kliff Kingsbury to put up points on a consistent basis.
Expectations: Arizona had its eyes set on the postseason in 2020 but fell short in the last two weeks of the season to go 8-8. This is the year for the Cardinals to make the playoffs, although six games of stingy competition in the NFC West could make things tough. Arizona has to feel it's close to breaking through after signing J.J. Watt.
Chicago Bears (home & away)
2020 record: 8-8
Notable: To the chagrin some Bears fans, head coach Matt Nagy and general manager Ryan Pace will be back for 2021. In fairness to those two, Chicago had built a decent roster but could never nail the quarterback spot after drafting Mitchell Trubisky over Deshaun Watson and Patrick Mahomes in 2017. Da Bears, I guess. The future is murky with Tashaun Gipson, Roy Robertson-Harris, Allen Robinson and Trubisky among the Bears' 2021 free agents
Big question: Does Trubisky come back to the Bears? If he returns to the Windy City then he'll continue being their starter. If not? Nick Foles showed why he is a career backup when he suited up for the Bears in 2020, so they will have to search for their next starter in the trade market, free agency or in the draft.
Expectations: With uncertainty around Trubisky in Chicago, the Bears' expectations will be crystalized if and when they make the decision on No. 10 or bring in someone else. If that person is Trubisky, a rookie or a replacement level QB (Jimmy Garoppolo, Sam Darnold, etc.) then Chicago will probably hover around 8-8 again.
Dallas Cowboys (home)
2020 record: 6-10
Notable: The Cowboys did not fare well in a season that featured just five games from starting quarterback Dak Prescott. Once Prescott was injured and lost for the year in Week 5 against the New York Giants, Dallas turned to a plethora of backup quarterbacks led by Andy Dalton and eventually missed the playoffs. The Cowboys were still able to air it out a bit since wide receivers Amari Cooper, Michael Gallup and CeeDee Lamb all had at least 840 receiving yards and five touchdowns. Dallas' defense on the other hand was 10th worst in the NFL and surrendered 29.6 points per game.
Big question: Will Prescott get the franchise tag again? The Cowboys tagged him last offseason, so if they do it again instead of signing him to a long-term deal then it will probably poison the well and cause Prescott to leave after 2021.
Expectations: Assuming Prescott is back and healthy for 2021, the Cowboys will probably be the best of a bad NFC East division. Prescott is an upper-tier quarterback and has some excellent receivers along with running back Ezekiel Elliott, so the offense should be able to lead the way once again.
San Francisco 49ers (road)
2020 record: 6-10
Notable: San Francisco dipped back below .500 in 2020 after playing in the Super Bowl the year before. Injuries were the main reason the 49ers' season plummeted, as Nick Bosa, Garoppolo, George Kittle, Raheem Mostert, , Deebo Samuel and Solomon Thomas (to name a few) all missed significant time. Unfortunately for the 49ers, they have a handful of important upcoming free agents, including Kyle Juszczyk, Jerick McKinnon, Richard Sherman, Jaquiski Tartt, Thomas and Trent Williams, among others. There is no way the organization will be able to retain all those key players, so does that mean Kyle Shanahan and the 49ers want to upgrade at QB to offset their losses?
Big question: Is Garoppolo still on the roster entering 2021? San Francisco has floated trade options to the media during the offseason which means Jimmy G's future in the Bay Area is in question. Garoppolo is due $26.4 million next season but only has a dead cap number of $2.8 million, so his deal would not be a huge albatross in a potential trade.
Expectations: A lot of this is dependent on quarterback for San Francisco, but the 49ers should be NFC West contenders in 2021. There is no way they will be hit quite as bad with injuries and unless fate loves cruel jokes, plus San Francisco also won't have to finish out its final two regular-season games in Glendale, Ariz., like it did in 2020. The 49ers' roster is still at the upper end of the NFL and it should show in the fall.
Carolina Panthers (road)
2020 record: 5-11
Notable: The Panthers are still squarely in transition mode entering year two of the Matt Rhule era. Former Vikings signal-caller Teddy Bridgewater completed 69.1% of his passes for 3,733 yards, 15 touchdowns and 11 picks in his first year in new offensive coordinator Joe Brady's scheme. While injuries limited elite running back Christian McCaffrey to just three games, many of Carolina's offensive weapons benefitted in Brady's offense, namely wide receivers Robby Anderson and D.J. Moore, who each surpassed 1,000 receiving yards, and wideout Curtis Samuel, who had 851 receiving yards to go with 200 on the ground. The Panthers' defense was just below average in terms of yards allowed and featured NFL defensive rookie of the year candidate in safety Jeremy Chinn, who Vikings fans know all too well after last season's Week 12 bout.
Big question: Similar to Detroit, who starts at QB for Carolina? Bridgewater was fine for last year but it is clear the Panthers' brass is not fully committed to him because they tried to trade for Stafford. Carolina has the No. 8 pick in the draft so it could select a rookie quarterback with that or package it in a trade for another established veteran.
Expectations: A lot of this depends on who starts at quarterback for the Panthers, but it appears the pieces are in place for them to make a leap in 2021. McCaffrey is back, wide receiver is far from a need and their defense is not a disaster.
Detroit Lions (home & away)
2020 record: 5-11
Notable: The Lions will look much different in 2021 than they looked in years past. Detroit fired general manager Bob Quinn and head coach Matt Patricia and replaced them with Brad Holmes and certified Football Guy Dan Campbell. Shortly after those two were in place, Detroit traded starting quarterback Matt Stafford to the Los Angeles Rams for Jared Goff, two future first-round picks and a third-round pick. After three straight losing seasons with that trio in Detroit, it made sense for those moves to be made. The Lions' defense was objectively the worst in the NFL, ranking 32nd in points allowed, yards allowed and defensive DVOA, which clearly limited what the Lions were capable of in 2020. Stafford had a decent season, throwing for 4,084 yards, 26 touchdowns and 10 interceptions in 16 starts, but not having much of a running game and losing star wideout Kenny Golladay to injury made things suboptimal for their offense.
Big question: Just what will this team look like and is Campbell the right coach to lead a turnaround? We have no idea what a Campbell team will look like on the field – other than biting at kneecaps. How will Goff fit in to a new offense? The running back position is something of a mess. Golladay is a free agent. And we mentioned the defense. Detroit lost seven games by 14+ points in 2020.
Expectations: This is a rebuild. The Lions will probably be bad in 2021, which is really nothing new but by acquiring so much draft capital and a younger quarterback, it seems like the Lions are cool with taking some short-term defeats as part of the process to develop a more complete roster. Minnesota should be able to pick up two wins over the Lions, but with Campbell at the helm, the Vikings better watch out for their kneecaps.
Cincinnati Bengals (road)
2020 record: 4-11-1
Notable: Cincinnati looked like a frisky underdog in the 10 games that Joe Burrow played, with the rookie throwing for 2,688 yards, 13 touchdowns and five interceptions. Burrow showed why he was the top selection in the 2020 draft, but the Bengals also showed why they were in position to draft No. 1 overall. Their defense allowed the seventh-most yardage in 2020 and their offensive line gave up 3.0 sacks per game, sixth-worst in the NFL.
Big question: How will Burrow's injury affect his play in 2021? Burrow tore his ACL on Nov. 22. A return to playing in September isn't out of the question. But will it take time for Burrow to regain his mobility – and his confidence in the knee to run? A Bengals offense with a healthy Burrow, an improved offensive line, Tyler Boyd, Tee Higgins and Joe Mixon could be really interesting.
Expectations: Cincy should not be a bottom feeder once again, but playoffs might be a stretch. Expect a .500-ish result for the Bengals.