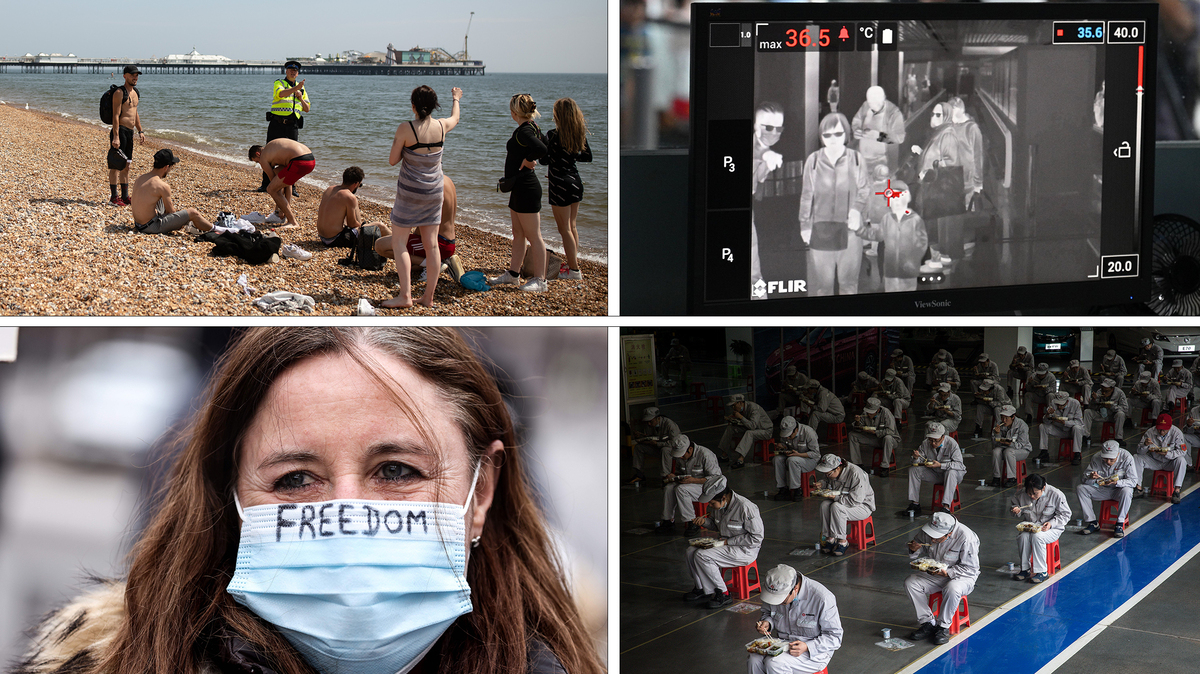 Luke Dray / Getty Images; Kenzo Tribouillard / AFP via Getty Images; Mohd Rasfan / AFP; Getty Images
On Monday, the U.S. achieved a staggering 500,000 deaths from COVID-19.
But widespread death from COVID-19 is not necessarily inevitable.
Data from Johns Hopkins University shows that some countries had fewer cases and fewer deaths per capita. For example, the U.S. had 152 deaths per 100,000 people, compared to 0.03 in Burundi and 0.04 in Taiwan.
There are many reasons for these differences between countries, but study u Lancet Planetary health published last month suggests that the key factor may be cultural. The study examines "loose" nations – those with relaxed social norms and fewer rules and restrictions – and "narrow" nations, those with stricter rules and restrictions and tougher disciplinary measures. It found that "loose" nations had five times more cases (7,132 cases per million people versus 1,428 per million) and over eight times more deaths than COVID-19 (183 deaths per million people versus 21 per million) than "narrow" countries during the first ten months of the pandemic.
Michele Gelfand, lead author of the study and a professor at the University of Maryland who specializes in intercultural psychology, previously published a paper on nations of narrow and loose rules in Science and in the 2018 book, Rulers of rules, breakers of rules: How narrow and loose cultures connect our world.
Gelfand says her past research has suggested that narrow cultures may be better equipped to respond to a global pandemic than loose ones because their citizens they may be more willing to cooperate with the rules and that the pandemic is "the first time that we have been able to examine how countries around the world react simultaneously to the same collective threat."
About goats and soda
Goats and Soda is NPR's global blog on health and development. We tell stories of life in our changing world, focusing on low- and middle-income countries. And we keep in mind that we are all neighbors in this global village. Sign up for our weekly newsletter. Learn more about our team and coverage.
For Lancet article, researchers examined data from 57 countries in the fall of 2020 using an online database "Our world in data, "which provides daily updates on the cases and deaths of COVID-19. They paired this information with previous research by classifying each of the countries on a scale of cultural impermeability or laxity. Spain – experienced significantly more cases and deaths from COVID-19 until October 2020 than countries such as South Korea, Taiwan and Singapore, which have much stronger cultures.
NPR discusses with Gelfand about the findings and how understanding the concepts of "looser" and "narrower" nations could lead to measures to help prevent COVID-19 cases and deaths as the pandemic continues.
This interview is edited for length and clarity.
How has past research led you to your current pandemic findings?
One of the things I've been looking at for years is how strictly cultures adhere to social norms. All cultures have social norms that are a kind of unwritten rules for social behavior. In elevators, we don't turn back. We don't start singing loud in cinemas. And we act that way because it helps us coordinate with other human beings, to help our society function. [Norms] are really the glue that holds us together.
One thing we have learned during our earlier work is that some cultures adhere quite strictly to social norms. And these differences are not accidental. Narrow cultures have in their history had many threats from Mother Nature, such as catastrophes, famines and pathogen outbreaks, and unnatural threats such as invasions of their territory. And the idea is that when you have a lot of collective threats you need strict rules. They help people coordinate and predict behavior with each other. So, in a sense, you can think about it from an evolutionary perspective that following the rules helps us survive chaos and crisis.
Can you change the culture to sharpen it?
Yes, but you need guidance to tell you that this is a really dangerous situation. And you need people from the bottom up who are willing to sacrifice some freedom for rules to keep the whole country safe. And it's happening in New Zealand, where they've had a few cases and a few deaths per million, and where they're really very egalitarian. My interpretation is that people said, "We all have to abide by the rules to protect people."
Can you give us some examples of how narrow and loose cultures work when there is no pandemic?
Loose cultures tend to have a lot of openness, and narrow cultures struggle with openness. We know that narrow cultures generally have less crime and more surveillance [citizens'] behavior and [more] security staff and police per capita.
Broad cultures set the market for openness to people of different races and religions and are far more creative in terms of generating ideas and the ability to think outside the box.
Do you think it is possible to tighten as needed?
Yes, absolutely. I mean, I would call it ambidexterity – the ability to tighten when there is an objective threat and to loosen when the threat decreases. People who don't like the idea of ​​tightening should realize that this is temporary and the faster we tighten the faster the threat will decrease and the faster we can return to our freedom-loving behavior.
I guess people are worried about the long-term consequences of aggravation.
We should not confuse authoritarianism with tension.
Adherence to the rules regarding the wearing of masks and social exclusion will help us to return more quickly to the opening of the economy and to saving our freedom. And we can look back at other cultures that could have opened up with greater success, like Taiwan, for example. Increased self-regulation and [abidance of] physical distancing, wearing masks, and avoiding large crowds have allowed the country to maintain both low rates of infection and mortality without completely shutting down the economy. We need to think of this as a situation in terms of respecting certain types of rules.
It is necessary to use cultural intelligence to understand when we place tension and when we set looseness. And my optimistic view is that we will learn how to better communicate about threats, how to get people to follow the rules so that people understand the danger but also feel empowered to deal with it.
[In the U.S., for example, we] we need to have national unity to deal with the collective threat so that we are ready as a nation to come together as in the past during other collected threats, such as after 9/11.
Fran Kritz is a health policy rapporteur based in Washington, DC, who has contributed to this Washington Post and Kaiser Health News. Find her on Twitter: @fkritz