If you're dreaming about heading to Florida for a little vacation, you're not alone. With a record breaking 120+ million tourists visiting Florida back in 2018, there's little doubt Florida is one of North America's most popular places.
Between the world class amusement parks, the miles and miles of gorgeous white sand beaches, the lushness of the Everglades, the relaxed vibes of the Keys, the nightlife of Miami and the unmistakable beauty in the Florida Panhandle you can bet that if you can't find what you're looking for in Florida, you're simply not trying hard enough.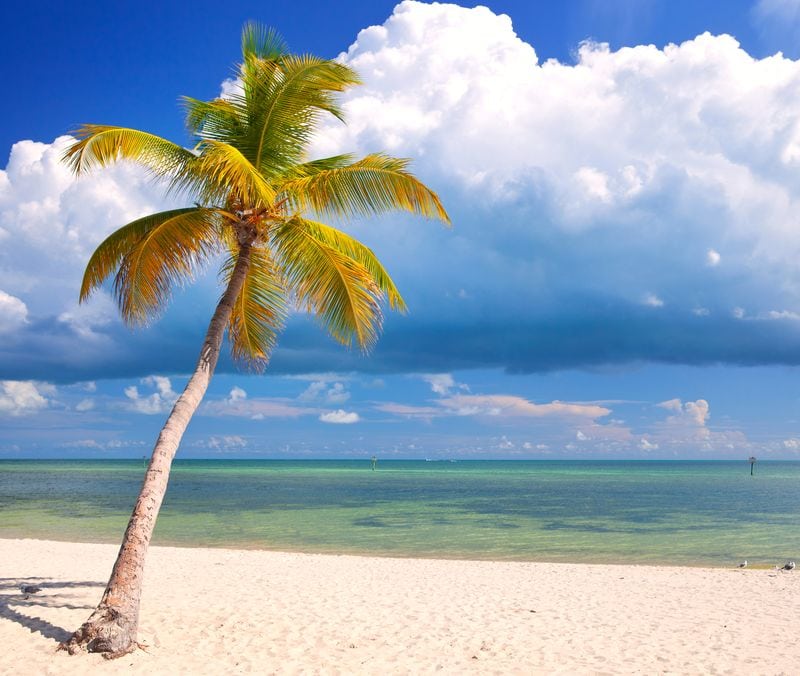 While heading to one area in Florida can be a fun trip, no real Florida vacation is complete without taking at least 1 road trip. While you can drive from down south in Miami up through Orlando and over to Pensacola in under 10 hours, even while passing through some of Florida's largest cities, the best road trips in Florida take only a few hours at best from the major cities.
That said, while you can rent everything from a scooter to a Lamborghini while in Florida, if you truly want to get away from the crowds, you can also rent a camper in Orlando and take your time visiting some of Florida's hidden gems.
Best Road Trips Around Miami, Florida
While Miami has a ton to offer from beautiful beaches to amazing nightlife (including latin salsa dancing, Cuban inspired dishes and more famous people showing up around town than any city outside California), sometimes you need a few days to relax.
There are 2 quick day trips that come to mind when based in Miami. The Florida Keys and the Florida Everglades. Each can be done in a day but both deserve to be part of the best road trips in Florida.
Road Trip to the Florida Keys
The Florida Keys is one of Florida's most chill destinations with some of the longest bridges in the country linking dozens of small sandy islands known as keys. Heading out to the Keys for the day (as they're affectionately known) is a popular Florida day trip from Miami and even Fort Lauderdale.
Heading south, and less than an hour away from Miami, is the first (and often final) stop, the largest key/island in the archipelago, Key Largo. In Key Largo you can go scuba diving or take a snorkel tour at the first underwater park in the United States, the John Pennekamp Coral Reef State Park, which comprises part of the Florida Reef, the only living coral barrier reef in the continental United States. You can also rent kayaks and check out the park at your own pace or pretend you're Bogart and Hepburn and take the African Queen Canal Cruise.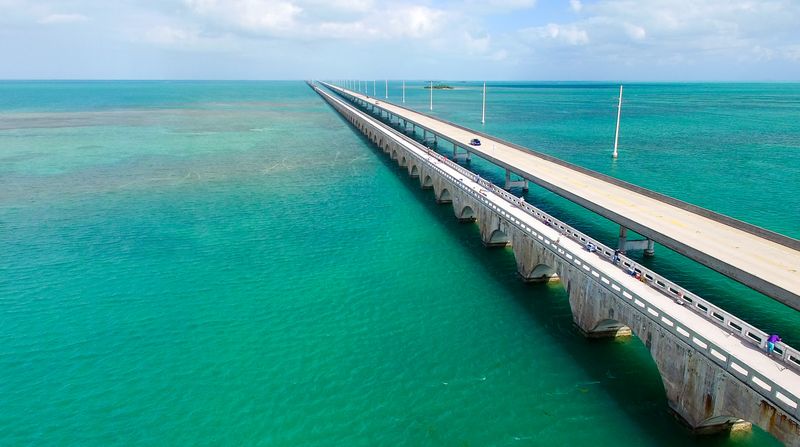 If you choose to continue your 2 hour, 100 mile drive down the Florida Keys you will encounter many cute parks and small towns, more bridges than you'll ever see again and then, finally, Key West. Key West is the southernmost city in the contiguous United States and is only 95 miles from Cuba. You'll find plenty of relaxed vibes, great diving, Cuban inspired cuisine and homes from Hemingway to Truman as well as a rum distillery and plenty of places selling the ubiquitous key-lime pies (so named after the archipelago). There are also dozens of Bed and Breakfasts in Key West as well as several campgrounds if you decide to stay overnight.
Road Trip to the Florida Everglades
The Florida Everglades are home to everything from Alligators to panthers and are a great juxtaposition to about all things Miami. Featuring thrilling airboat tour rides in the swamps to awesome mile long boardwalks high over the varying terrain, the Everglades are unlike just about anywhere else you'll find and make a great day long road trip.
Since Miami and Fort Lauderdale are just on the outskirts of the Everglades National Park, they're a popular starting point for an Everglades excursion. Some people find that Key Largo can also make a great entryway to the Florida Everglades so if you're straight off the heels of your Florida Keys road trip, Key Largo could be a great stopping point for the night.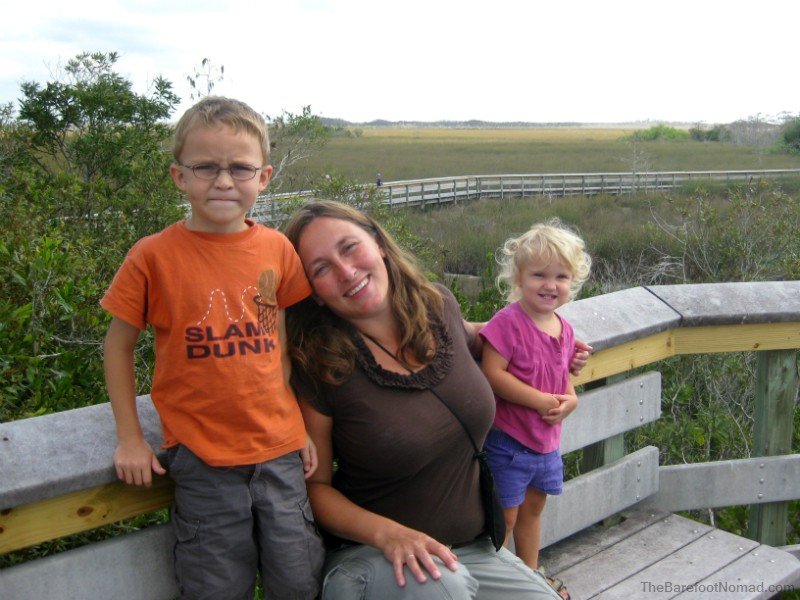 While you can drive over to any number of Everglades airboat tour operators that provide tours aboard fast moving airboats (they are a ton of fun), we suggest that either before or after your tour you head to the Ernest F. Coe Visitor Center before entering the Everglades National Park proper and continuing your journey south to the Flamingo Visitor Center. There you can take a ranger lead tour of the Everglades and you can also stop by the many boardwalks and hiking trails like we've done numerous times on your drive back up to Miami. The Anhinga Trail is often rated as the best of these and shouldn't be missed.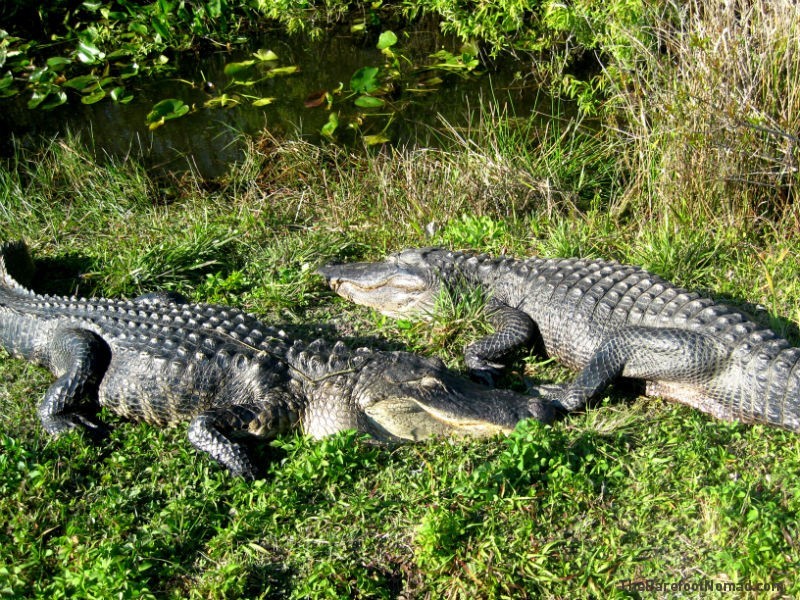 Best Road Trips around Orlando, Florida
While theme parks and outlet malls dominate the landscape around Orlando and Kissimmee, after a few days of dealing with the crowds you'll want to escape to someplace quieter and with fewer lines. Since Orlando is fairly central, you can literally go in any direction for a Florida road trip to see different scenery.
Our recommendations for day long road trips from Orlando includes a trip to Daytona Beach as well as Cape Canaveral and St. Augustine. So whether you're feeling nostalgic, space crazy or just need a day at the beach this section has you covered.
Road Trip to Cape Canaveral
NASA and space rockets. For some people that's all I need to say to have them asking where and when can they go there. For the rest of us, NASA's Cape Canaveral center has been launching rockets into space for over 70 years now and includes some historic launches including the first rocket into space as well as the launch of the first US astronaut into space.
Less than an hour away due east from central Orlando, the Kennedy Space Center Visitor Complex on the grounds of the Kennedy Space Center and adjacent to the Cape Canaveral Space Force Station are worth a visit if you're interested in seeing some actual rockets that have actually been into outer space. It's also a great place to bring any kids (young or 99+) to live their goal of becoming an astronaut. As well as the NASA visitor site, there is a lovely lighthouse in Cape Canaveral that you can hike to.
Road Trip to Daytona Beach
After hours spent in lineups and days spent dropping money like it's on fire, you deserve some beach time. One of the most famous beaches within a hour of Orlando happens to be Daytona Beach. Yes, that Daytona Beach.
Just as famous for it's Daytona 500 NASCAR raceway as it is for it's yearly Spring Break college party status, Daytona Beach can get a little busy and even a little rowdy a few times each year. Outside of those days though, it's actually a nice beach town and a good way to get some fresh air and sunshine.
Located just an hours drive northeast of Orlando via Highway 4, Daytona Beach is an easy recommendation for most people. It can also be a great destination if you happen to be a spring breaker or love NASCAR, just make sure you time your trip to coincide with either of those timeframes and if you're not, do yourself a favor and avoid heading there then.
Road Trip to St. Augustine
While not as cool as a space center and not as fun as a day at the beach for some, the city of St. Augustine still has loads of appeal. St. Augustine is just north of Daytona Beach and is a hefty 2.5 hour drive northeast of Orlando. While it is actually closer to Jacksonville (40 miles vs 100 miles), chances are better you're coming from Orlando anyway.
Known as America's oldest city, St. Augustine's original fort was built in 1672 by the Spanish to protect the city from water raids. Castillo de San Marcos is a huge fort and houses tons of old artifacts and often has historical re-enactments. The crowning glory of the old castle is the daily firing of the cannonballs where they use authentic canons to recreate what it was like back in the day. You can also walk along the solid castle walls and capture a glimpse of a bygone era.
St. Augustine proper is a lovely city complete with charming cobblestone roads, quaint restaurants and cafes as well as numerous historical landmarks around town.
Best Road Trips Around Tampa Florida
If you find yourself in Tampa Florida and are looking for a road trip you have some great options. Go northeast for an hour and you'll find yourself in Orlando, home to some of the largest and best theme parks in the world including Disney World and Universal Studios (including our families favorite place, the Wizarding World of Harry Potter).
Northwest of Tampa you have Crystal River, home of manatees and mermaids while southwest will get you to idyllic St. Petersburg and due south where you'll find the gorgeous sand beaches near Sarasota.
Road Trip to Crystal River
Dreaming of sea sponges, mermaids and manatees? This little road trip has all three, a little nature and some beautiful coastline as well.
Heading west of Tampa will bring you to Clearwater and its surrounding areas. Once you hit the coast you can enjoy the charms of Dunedin and Palm Harbor however if you continue north on highway 19 you'll eventually hit Tarpon Springs. It's famous for its Tarpon Springs Sponge Docks where you can walk among the boats and check out the mountains of sea sponges that litter the docks.
After you check out the sponges, it's time to get back in the vehicle and continue following US-19 highway north until you get to Weeki Wachee Springs State Park, home of the world famous Weeki Wachee Springs Mermaid Show. This classic old school Florida mermaid show has been running for over 70 years! Sitting in the submerged 400 plus seating amphitheater is a true throwback to Florida's roots and the underwater mermaid show is worth every penny. There's also over 500 acres of state park to explore here coupled with options like snorkeling, canoeing or kayaking in the crystal clear waters or even hitting up the local waterpark, Buccaneer Bay.
After some time here, we can continue working our way north until we hit the quiet calmness of Crystal River. Situated around Kings Bay and spring fed by a cluster of 50+ springs, the clear water around Crystal River stays at a constant 72°F or 22°C temperature year round.
This inviting water attracts the West Indian Manatee (also known as the North American manatee or sea cow) which happens to be the largest surviving member of the manatee family. Home to some of the largest year round collections of wild manatees in the US, you're sure to see some along one of the many paths around the city or at the Three Sisters Springs boardwalk in the winter months when you will see more manatees in the water (around 300 from November to March) however there are still approximately 60 that reside in the waters around Crystal River year round.
If you're there in the warmer months you can elect to take a guided tour or rent a kayak or boat to go search them out yourself but please remember that manatees are a protected species so please keep your distance. The return trip back to Tampa should take around 1.5 hours (80 miles) so plan your day wisely to include at least 1 ice cream stop.
Road trip to St. Petersburg
If you're craving a quieter city than the busyness of Tampa with a nod to the arts, St. Petersburg might be your ticket to happiness. Set along the coast around a half hour southwest of Tampa, the city boasts 10 museums (including the Salvador Dalí Museum) plus loads of beautiful parks and beaches. It also houses the Mahaffey Theater, home of the Florida Orchestra.
Road trip to Sarasota
Due south of both St. Petersburg and Tampa, Sarasota is home to some of the nicest sand beaches in the world. Siesta Beach in particular has topped best beach in the USA several times and is often included in the top 25 beaches of the world lists so it's no surprise we included it here.
So, when only 60 miles or 60 minutes of travel time is what's separating you from one of the nicest beaches in the world, where do you go? That's right Sarasota. The sand at Siesta Beach is nearly 100% quartz-crystal sand and is so pure it never gets hot. Considering Florida can get quite warm in the summer, that and clear water are a great combo.
Best Road Trips Around Pensacola Florida
Whether you're there for the beaches or the water, you'll love the areas around Pensacola Florida. As the westernmost city in the Florida Panhandle, Pensacola is actually only a few hours from New Orleans, is minutes from Alabama and is considered a nice place to visit by every one that goes there.
However, if we head east of Pensacola, we not only have some of the nicest water in Florida but also one of the largest populations of bottle-nose dolphins in the world.
Road Trip to Destin
While Miami Beach has the beautiful people, Sarasota the fine sand and Daytona Beach the wild parties, everyone who's been there knows Destin has some of the nicest water in Florida. Known as the Emerald coast, this region of Florida has good reason to boast about it's gorgeous waters.
Only an hour from Pensacola lies Destin Florida. Known for its clear emerald waters, Destin is unique for it's sunken beach nicknamed Crab Island. People flock to this protected stretch of water that averages only a few feet deep and even set up floating shops, restaurants and playgrounds. The water is so calm here you can rent a pontoon boat for the day and drop anchor or, if you're feeling really party like, rent a floating Tiki Bar complete with your own personal bartender and captain.
Road Trip to St. Andrew State Park
No trip to Destin would be complete without also taking a drive out to St. Andrew State Park on the steps of Panama City. Located another hour past Destin and 2 hours (110 miles) from Pensacola proper lies one of the most visited parks in all of Florida. What makes St. Andrew State Park unique is that it houses St. Andrew's Bay which in turn houses the largest population of bottle-nose dolphins in the world.
While you are pretty much guaranteed to spot a dolphin here on your own, one of the best ways to see them up close is to take the ferry boat to the popular Shell Island. There are no amenities on Shell Island but it makes a great day to get away from it all and to see pods of dolphins first hand.
The Best Road Trips in Florida
Whether you're visiting busy Orlando, hectic Tampa or decadent Miami, the truth is that Florida truly has something for everyone. If you're stuck in a large center and looking to get away from the crowds, there's always a nice road trip you can take to clear your head and either get back to nature or somewhere different enough to make your trip memorable. Beautiful beaches, old forts, swamps, rockets and dolphins are only some of the things you can see and experience while you're in Florida.
Let us know if we missed your favorite Floridian road trip and we'll try to include it on our next Florida post. Safe travels.
.