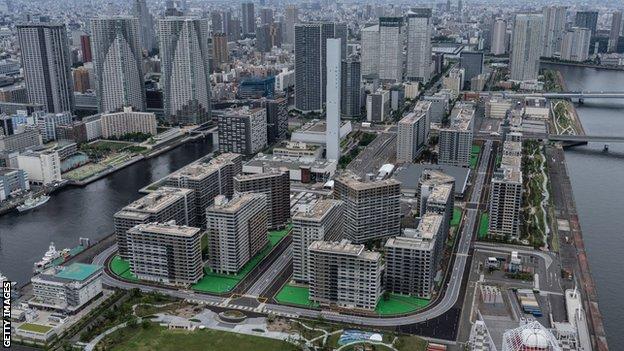 Two South African football players became the first competitors to test positive for coronavirus in an athlete's village in Tokyo – five days before the start of the Olympic Games.
The South African Football Association has confirmed Thabiso Monyane and Kamohel Mahlatsi as cases.
Video analyst Mario Masha positive test on Saturday and the team is in quarantine awaiting more test results.
Another athlete outside the village was also positive on Sunday.
"In this camp we have three positive Covid-19 cases, two players and one clerk," said South African team manager Mxolisi Sibam.
"There's a daily checkup that involved taking temperature and saliva tests, Masha and Monyana reported high temperatures and positive saliva tests and then they were taken for a nasal test, which we all did initially, and they are unfortunately positive for Covid through that test. Mahlatsi is the latest player to go through the same procedure, "Sibam added.
Monyane, the right-back of the Orlando Pirates in his homeland, posted on social media when the team arrived in Tokyo.
In total, organizers reported 10 new Olympic-related cases on Sunday, including the media, performers and other staff. That compares to 15 new cases on Saturday.
Infection rates are rising among Tokyo's general population, exceeding 1,000 new cases for four consecutive days. Polls show that many Japanese are opposed to holding the Games by the influx of foreign visitors it carries.
Tokyo 2020 spokesman Massa Takaya said the three cases were from the same state and sport. "They are" isolated in their rooms and Tokyo 2020 delivers meals to them, "he said, adding that the rest of the team – which has not yet been identified – have also been tested .
Speaking on Saturday, Games boss Seiko Hashimoto said: "Athletes coming to Japan are probably very worried. I understand that.
"We're doing everything we can to prevent any Covid epidemics. If we're done with the epidemic, we'll make sure we have a response plan in place."
The entire Australian athletics team for the Tokyo Olympics on Saturday is in quarantine in their rooms at their prep camp before the Cairns Games, following fears of Covid-19.
The officer returned an inconclusive test, but subsequent tests were negative, the Australian Olympic Committee (AOC) confirmed on Sunday.
Athletes have since been allowed to compete in the warm-up
"As far as I understand [Athletics Australia] applied an abundance of caution, "said David Hughes, chief medical officer of the AOC.